YOGA COURSE
WHAT SHALL BE YOUR BASIC LESSONS?
Worshipping- Devotion to the Almighty Creator
Authentic yoga: Origin, Meaning, Importance and limbs of yoga
Asanas (Sitting Posture) and Pranayamas (Breathing Techniques)
Meditation tips to control our mind- Chakra Locking and Opening practice
What is spirituality and how to purify body-mind & soul?
Uttering the greatest Mantra - Satsang (Music and Bhajanss)
How our human body and how our world is operated?
What does Vedic Sanatan Dharma mean?
The law of nature and The law of Karma - Why not to rotate temples clock-wise?
Why are we unhappy? What is the purpose of our life?
Watching own AURA, Nature Therapy and Basic Ayurveda course
Treatment of sinus, migraine, depression and constipation
Why is Vashtu Shastra (Fengsui) important in our life?
Wearing world's ancient dress (Topi-Daura-Suruwal for male & Sadi Cholo for female)
Receiving the world's ancient calendar (at least 10600 yrs old) as a gift
Love - Live- & Laugh like a fool, dance and rejoice.
KNOW THE THREE GREAT REALIZATION !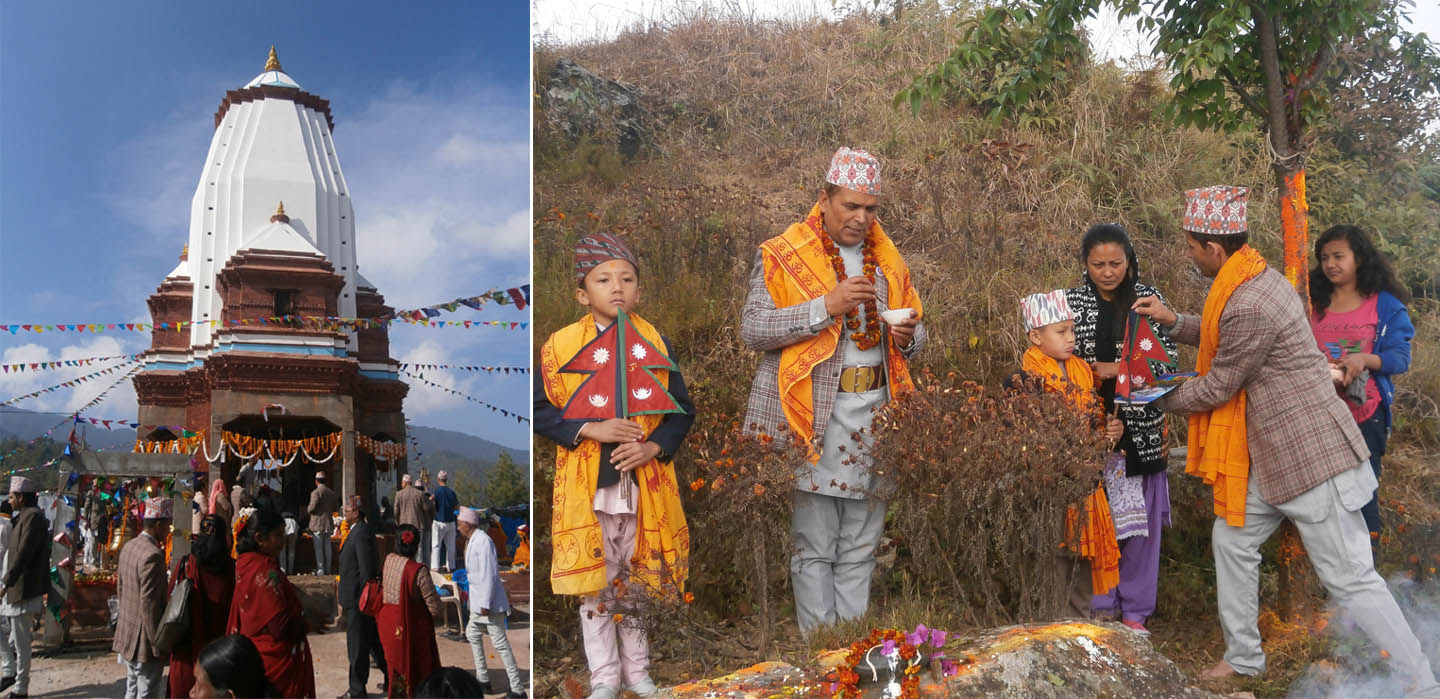 PROGRAM SCHEEDULE
06:00 - Class starts with Pooja worshipping, detox herb drink, yoga class
8 :30 breakfast- 1: 30 lunch- 7 : 30 dinner
5pm class starts with satsang bhajan (meditation class with music program)
90 min morning and 90 min Evening Yoga and meditation class
Note: Other time is meant for hikes, rest, read spiritual pages and question yourself. May you purify your self -open your chakras- receive immense spiritual vibration. Rather stretching legs and closing eyes, you are meant to be here for special purpose; retrieve lost ways and live a blissful life. You learn Raja yoga, Bhakti yoga, Karma yoga, Gyana yoga, Hatha Yoga - yoga in its purest form. BEYOND YOUR SMILE 7 NIGHT RETREAT (for beginners) @ Euro 555
THE GREAT REALIZATION 7NIGHT RETREAT (intermediate) @ Euro 666
COST INCLUDES
Pick up transportation from Pokhara tourist bus-park or Pokhara airport (6km drive)
Cocoon warmth accommodation, one room one person according to ruling planet
3 Ayurvedic meals a day, Detox herb drink, seasonal fruits, milk, herb tea / organic coffee
90 min. Yoga class in the morning & 90 min meditation class in the evening
Basic Ayurveda course (cooking course ) and Nature Therapy (self healing practices)
Astrological outlook with full report according to the Vedic astrology
Wearing the oldest vedic dress and learning the ancient language
Ayurvedic massage, Nature therapy, watching own Aura and self- reiki healing
World Peace Stupa visit, main city tours, jungle hike and village tour
Free treatment for Sinus, migraine, depression and constipation problems
Taxes, Valuable gifts (eg. map, posters, books, Music CD, and the throne that Jesus Christ had used in his head during crucify.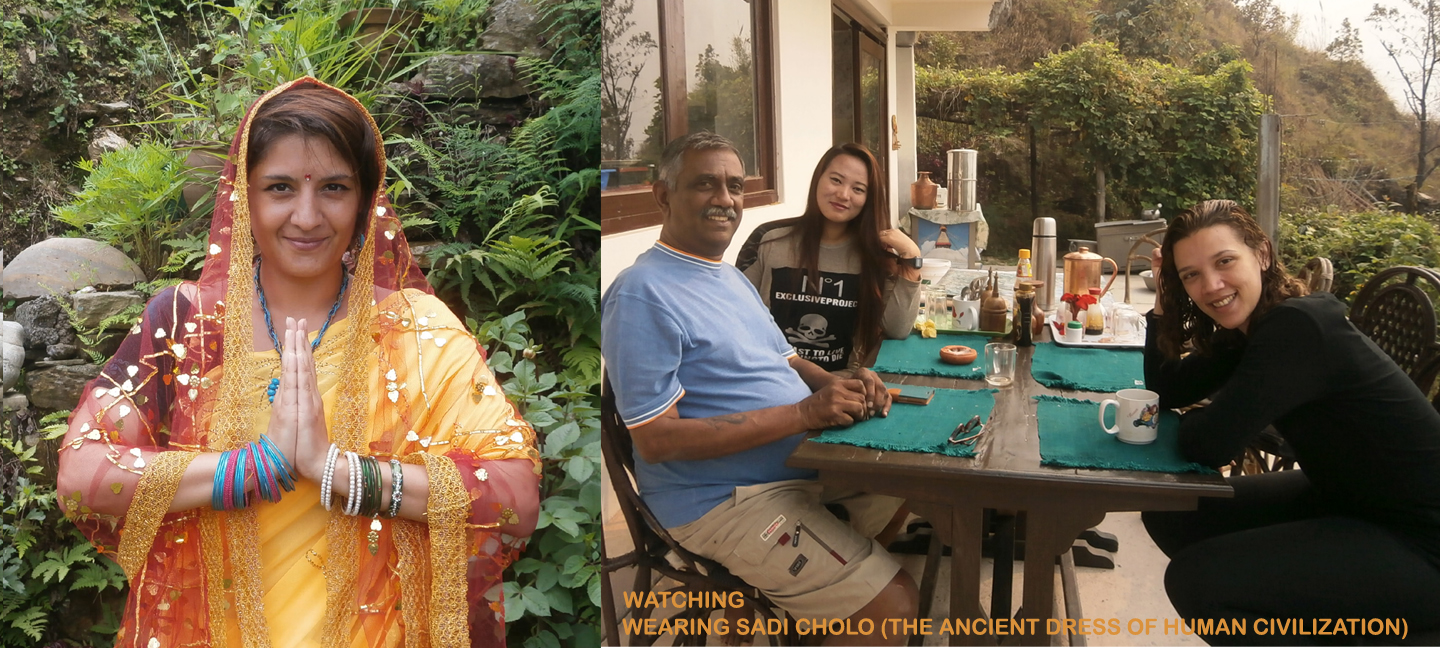 Nepal is the origin place of Hatha Yoga and Meditation as taught by Guru Gorakhnath in the very beginning of human civilization. 'Ha' means Sun (Pingala- male energy) and Tha means Moon (Ida - female energy) of our body. Activation of our inner chakras through Hatha - pranayama is called Hatha yoga. However, it teaches purification codes, Asanas (postures), pranayamas (breathings) and meditation techniques. Hatha Yoga is the father of all the yoga styles / forms. Indeed, Tushita- Nepal is the school for yoga and meditation "Yogalaya". The whole effort of yoga and meditation shall be in purification and awakening the chakras. Those six chakras of our body generate vibrant sound A, Ha, Ya, Wa, Ra, La. These are the pure sounds of our Nepali language. And, these are the letters that the whole world is bewildered with mystic thought.
5 NIGHT 6 DAYS INTRODUCTORY CLASS (for the beginners) COSTS Euro 456
Cost Includes: Most comfortable accommodation, 3 meals a day, yoga and meditation course, hikes around world peace stupa and typical village, gifts. Simply answering - meditation teaches people how to be happy. Yoga means to add ( + ) in our Nepali language. So, to add our soul to supreme soul 'The Bramha' is Yoga. The modern life is full of turmoil and tragedy. All the people are rushing in search of pinch of happiness. Much of their time is spent banging into walls of materialism chasing money, caring relationship, passionate search for pleasure and security. But their effort is vain because material comfort is just a momentous, so-called happiness. Therefore, meditation is the only way to get rid off from all the tragedies. It is the noblest path to reunion our soul to supreme soul- The Bramha..
Meditation is for:
Peace of mind
Prosperity
Healthy life
Peace and Harmony
True Happiness In this course you come to know:
The truths of Yoga and meditation
Living a positive life in peace and harmony
To know your-self and discover the mystery of nature
Knowledge of Ayurveda and Vashtu Shastra "Fengsui"
The proper way to detoxify toxins.. just like scanning virus in computer

Schedule of the day shall be:
05 : 55 am Pooja (worshipping)
06 : 20 Starts yoga class
08 : 00 "Prasad" Breakfast
09 : 00 Spiritual awareness
01 : 00 pm Gorakh Arpan (Lunch)
Read books, listen music and rest.
05 : 00 Evening Jungle walk
06 : Evening Pooja worsipping
06 : 10 Meditation
07 : Sat Sangat (Bhajan - playing music, dancing, celebrating ! )
07 : 30 Evening Dinner

Note: Schedules can be changed according to the season and the Yogis category. We shall take to World Peace Stupa Tour, Jungle Walk, Bird watching, Orchid tour, Village visit, Organic farm vist etc.
15 DAYS INTERMIDIATE CLASS (COSTS Euro 999)
Cost Includes: Accommodation , 3 meals , tourist bus Kathmandu, hike around, gifts
The program schedule and the highlights shall be almost same to the beginners. But the students shall go a bit deeper about Yoga & Meditation, retreat and detoxifying tips in life. They understand that meditation is not stretching bodies and closing eyes but opening eyelids / petals of your life. Also, students understand that using mat / mattress / slipper during yoga is not good at all. Shall know many spiritual quests...
Students shall know about herbal plants and their medicinal usage as we have planted 64 different species of herbs.
Spiritual awakening lecture / presentations on most important spiritual discourses
30 DAYS ADVANCE CLASS (Euro 3600)
Summer session: May 1, June 1, July 1, & Winter Session Nov 1, Dec 1, Jan 1
Cost Includes: accommodation , 3 meals , tourist bus Kathmandu, hike around, city tours, visit to Veda Vyasa cave- compiler of the 4 Vedas memorable yogic gifts (posters, books, music CD'S, Vedic Dress)
Certificate provided : only if examination passed (This shall be one of the most tuff examination because we have gone to the depths of Tantras that common yoga schools just have not understood the truths as they know Yoga Styles of Hindus / India. We shall reveal the truths of yoga and meditation as described in Vedic Sanatan Dharma the most original form- as it is.
In this course the yogi shall know:
The creator of our universe
The truths of Yoga and meditation
To whom to call "Guru" and Baba...
The correct way to circulate temples [anticlock-wise] (Please ! Read things to know section for short description)
Nepal is the origin place of Astrology, Ayurveda and Vashtu Shastra "Fengsui". Later, Hindus of India and Chinese followed our Vedic Sanatan Dharma
Chakra Healings (opening the Kundalini Chakras)
The proper way to detoxify toxins.. just like scanning virus in computer
Yoga is not only stretching body-parts but way to attach our-self with 'The Bramha'.. Yoga is not closing eyes but opening eyes for right Karma that leads to ultimate destination.
Guru Gorakshanath the father Yoga & Meditaiton (Hatha yoga is the father of all the yoga forms/ styles)
Krishna nity (Teachings of Lord Krishan) became Christianity. Foreigners cannot pronounce KrishnaNity correctly and kurisuna nity kurisuna nity became Christianity. Jesus had visited Nepal and was greatly impressed with the teaching of Lord Krishna. He started to teach the truths of Vedic culture to the west. It is said that he was blessed from Guru Gorakshanath at Nagarjun of Kathmandu Nepal before his departure to Europe. Still his tomb can be visited near by Kashmir (which place belong to Nepal according to Greater Nepal Map).
Origin place of yoga and meditation after visiting the birth place of Veda Vyasa who wrote 4 Vedas (books of knowledge) the father of scientific discoveries, literature, all the religious texts. His birth-place Damauli is just 55 km away from our home.
There is another the 5th Veda (as Hindus of India used to describe as Hidden Vedas). This is how Yogi Panchavedi borrowed his name as he has touched few pages of the 5th Remember ! there are hardly 10 people who have seen and touched the 5th Vedas.
Daman - Inareshwor the holy land from where Mahabharata (holy war) had started. OM sound can be heard frequently coming from the inner cave. You can visit the first temple in the world of Sat Guru Gorakhnath (The Creator). Remember ! 3 OM had appeared during the foundation dug-out. The most spiritual vibration swirling place in the world that many Yoga masters visit here. This is the place where Urgen Rimpochhe got enlightened. Local villagers say that Yogi called Pilot Baba meditated for 14 years and got the truth. Many Tibetan Rimpochhes and Even Dalai Lama visit frequently hiding in a truck as he is very much watched by Chinese embassy. Indeed, this is the place where we can recharge our spiritual energy as we recharge our mobile in electric socket. This is the only place in the world that "dry lightining occurs every-day". And, you shall realize this is the ultimate destination of Yoga lovers.