DOES & DON'T
DO NOT SAY GURU OR BABA TO HUMANS
Uttering GURU to yoga teacher is completely nonsense. They can be a spiritual guide, master only. Guru is a Sanskrit word (meaning divine light that erases darkness/ ignorance). Therefore, this pious word Guru must be uttered only to Almighty Guru Gorakshanath the creator of universe and the preserver of nature.
DO NOT GO AROUND TEMPLE CLOCK WISE
May you go around the temple anti-clock wise in order to receive positive energy. We must flow with the law of nature otherwise we suffer in every steps. If we see around the flow nature and solar energy- it all moves anti-clockwise; revolution of planets, rotation of earth, wheel of creation, movement of hurricane, Swastika sign, astrological birth chart filling, animals sitting postures, climbing plants vein's upward movement, our body Chakra's Kundalini energy uprising, thumb's finger print, first movement in dance-race- sports whatsoever. So, lets go around the temple anti-clockwise for receiving positive energy.
DO NOT USE YOGA MAT
People have wrong concept as if stretching body is yoga. Moreover, using mats do not let us to recharge our body energy with the mother earth. Scientist's have discovered' the energy called Ions" that we can enhance health condition if we walk barefoot daily. This knowledge was already described in Vedas Verses as our body is full of electromagnetic currents and walking barefoot helps us in discharging and recharging earth' geo-magnetic currents in our body.
MUST FOLLOW THE 5 CODE OF MORAL ETHICS
Do not cheat, do not tell lie, do not gamble, do not involve in killings- illicit love/sex. No wine alcohol, tobacco, meat products are allowed for yogis who really wish to move in this peace path. LET THE WORLD KNOW THAT Yoga- Meditation was started from Nepal. Veda Vyasa; the compiler of the 4 Vedas- father of all the scientific discoveries and literature was born in Nepal. Nepal is the pious land from where holy river Ganga starts flowing.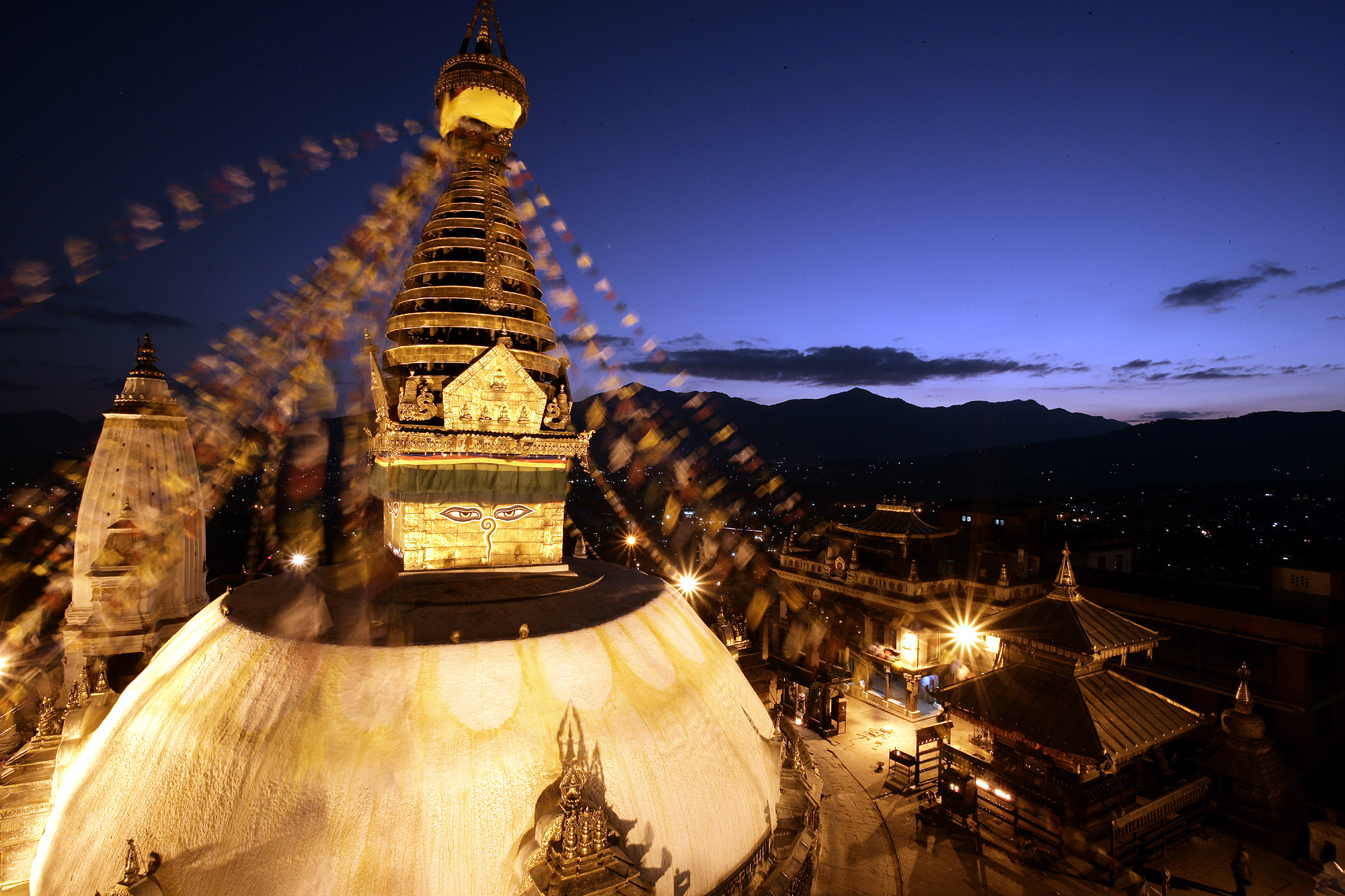 Swoyambhunath Temple in Kathmandu, Nepal