INFORMATION FOR NICE UNDERSTANDING
SAT GURU GORAKH (meaning: deep respect to the life energy residing inside you..) or 'OM NAMA SIBAYA' / NAMASKAR is our way of greetings ! We will treat you as a Yogi / traveler not a guest.
LOCATION : In the heart of Annapurna Himalayas Pokhara city - Nepal. 200 km west from Kathamndu; tourist bus leaves at 7 am and flight 4 times a day. We are 200 km away from the capital city Kathmandu. Everyday at 7 am tourist bus leaves from Kathmandu Kantipath street (5 minute walking distance from Thamel).Bus ticket costs $15. Aero-plane $126 every hour from 8 am to 2 pm . May you let us know for e-ticket and pick up transportation. We are 6 km away from the Pokhara airport or tourist bus park (geographical location X 790985 latitude Y 3123439) on the ridge of World Peace Stupa. We are at the second parking and need to walk 84 meter with your bag. Ask the taxi driver to assist your bag Please !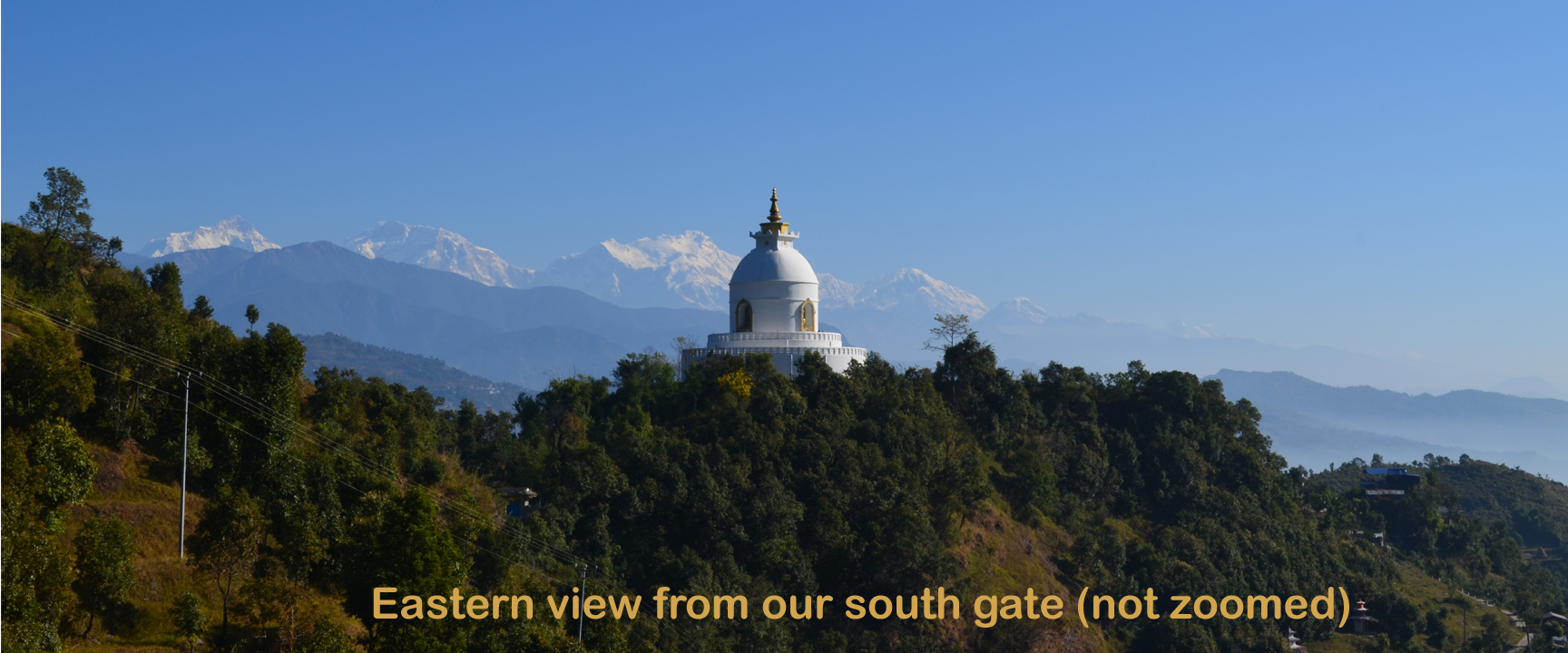 ALTITUDE: We are at 1111 m above the sea level- always above cloud. No problem of Cold although mountains are so near just 19 km away areal distance.
WEATHER: Temperature is moderate throughout the year. However, warm jacket is needed in winter Dec - Jan (never below 9 degree) and summer Jun - July (never above 29 degree) The altitude of Tushita- Nepal is 1111meter above the sea level
GROUP SIZE: 2 to 6 person only in order to maintain spiritual vibration
BASIC RULES: Self service /Shoes off/ Phone off (Wi-Fi on certain hours), is the basic rules. Most important- you need to stay feeling own home! It is the great place if you love nature (mountains-lakes-bees-birds-butterflies), tranquility, homely atmosphere and spiritual vibration. Reviews & comments are not appreciated unless you SEE- FEEL-REALIZE..
RETREAT COURSE: Retreat program starts on every Sunday all the year around.
FOOD & DRINKS: Ayurvedic Food only, herb juice, fruits, milk, Organic coffee, herb tea, detox drinks, organic vegetables and fruits from our own garden.
ACCOMMODATION : One person one room according to their ruling planet.
PACAKGAE COST : 7 night 8 days retreat package costs Euro 666 per person. Twin bed room for 2 person shall be Euro 999 (2 person price)
PAYMENT: Cash on arrival appreciated because we do not have paypal account and for master card payment bank charges you 5 % extra.
YOGA TYPE: GYANA YOGA (knowledge), HATHA YOGA (activating Pinga & Ida Nadis), BHAKTI YOGA (devotion), KARMA YOGA (self-less action), RAJA YOGA (purity)
WHAT TO BRING?
Carry Bag (not suitcase) shall be easy to travel in Nepal, your personal medicine / things and just 2 extra pair of clothes (LIGHT TRAVEL), wind & rain proof jacket -trouser, comfortable walking boots. Otherwise, you can buy anything at reasonable cost.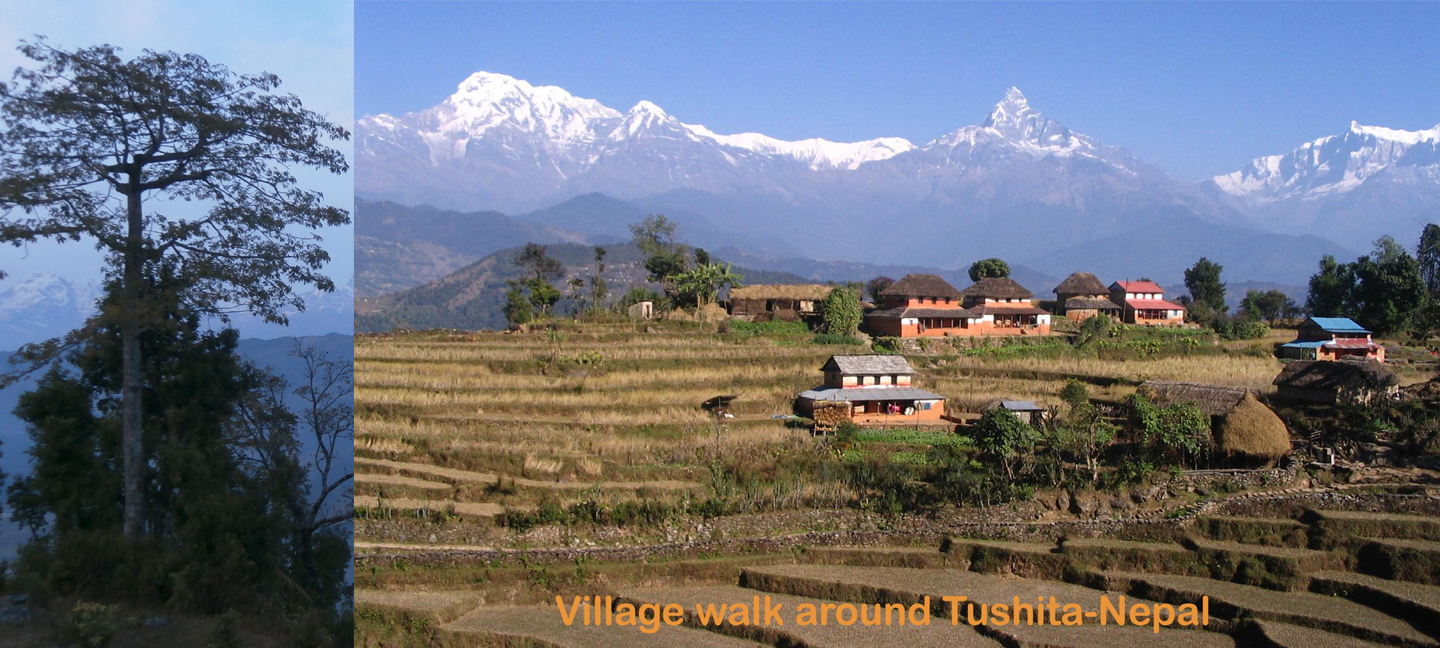 NOTE: Migraine, constipation and sinus problem are cured through Ayurvedic treatment and it is free of cost. Please do not come to Tushita if you don't like tranquility, mountain views, birds' chirping, Ayurvedic food and countryside. Self Service (cleaning owns cup-plates), mobile switch off (sending email okey!), shoes put off are our basic rules.
WE DO NOT CHANGE RELIGION:
We do not change any-bodys' religious belief but surely we take you in the Nimbus Hallow beyond Buddha, Krishna, Jesus or Mohammad. We focus on purifying (body-mind- soul) your 'self' for the attainment of Peace in life. Definitely, we provide you the proper address of the Almighty Creator and a bottom to click [send your words of lovingness]
NOBLE KNOWLEDGE : Once you understand "What does Vedic Sanatan Dharma mean" - understanding the truth from the book of knowledge, you shall know who you are & the purpose of life and start living a peaceful life because it gives you a key for peace.
WHY TUSHITA NEPAL?
Rather for stretching legs and closing eyes- Tushita-Nepal is an ideal place for receiving spiritual energy and exploring yourself; to detoxify, release, refresh and pave a way for a meaningful life. We focus on purifying body-mind & soul and give you the key of happiness and peace. May you learn Raja yoga -
Bhakti yoga- Gyana Yoga- Hatha yoga taught by Guru Gorakshanath in the very beginning of human civilization in order to live a well-disciplined life and to be connected with the Almighty. Long later, Hindus of India learned our Vedic culture. Come and discover the facts and get many unanswered philosophical quests. AUTHENTIC YOGA-MEDITATION as taught by Almighty Guru Gorakshanath (Bhakti Yoga, Gyana Yoga, Raja Yoga, Karma Yoga and obviously Hatha yoga the father of all the yoga types. http://www.healthynewage.com/practicing-yoga-and-medication-for-a-good-cause/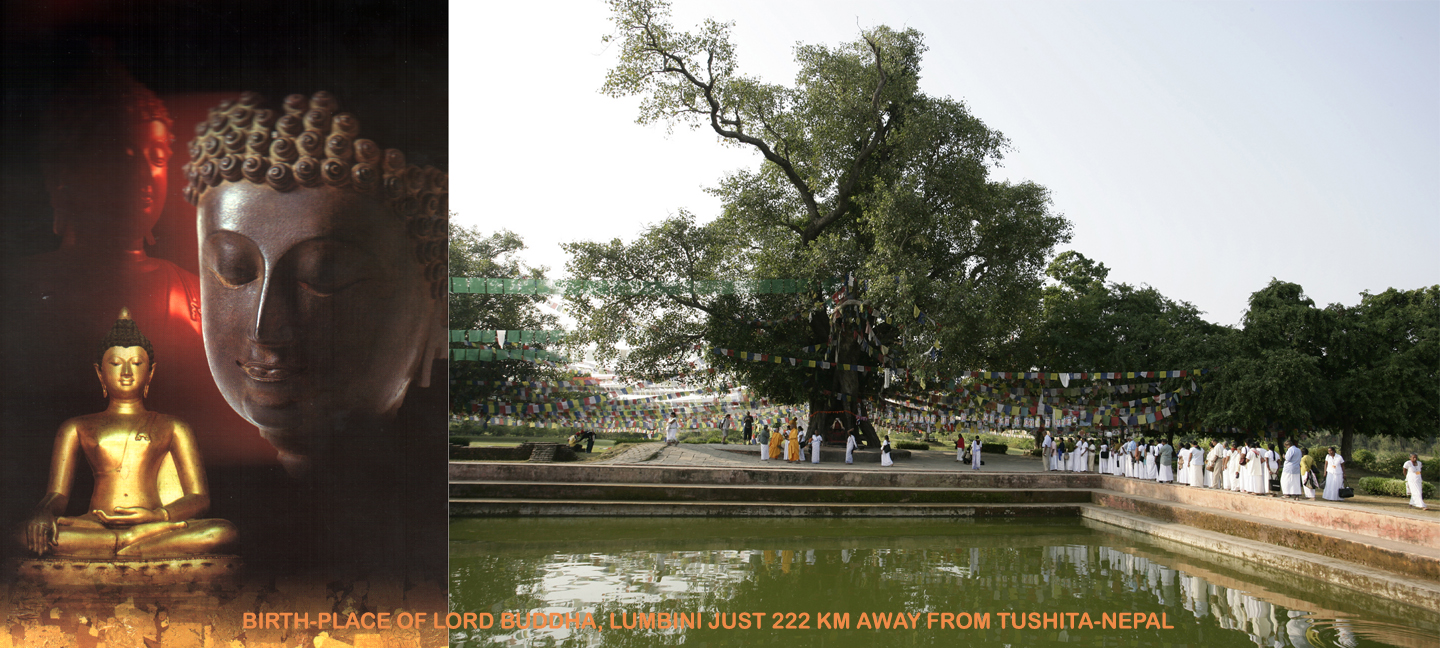 AFTER RETREAT YOU CAN GO FOR OPTIONAL TOURS
Mr. Shrestha is a travel book writer. He can give detail advice for your Nepal travel. . Beside, paragliding, rafting and city tours we conduct:
3 night Visit to Lumbini (the birth place of Lord Buddha) and Ruru Kshetra - the original Rishikesh
2 night 3 days experience Jungle safari (Royal Bengal tiger, one horned rhino and many more)
1 night Gorkha (Guru Gorakshanath cave), 1 night stay at Damauli (the birth place of Veda Vyasa who wrote the 4 Vedas; the father of literature, religious texts and scientific discoveries.
4 night 5 days Yoga trek in the mountain, enjoying rhododendron forest and natural hot spring.
Ayurveda study tour, Gemstones study tour on request.