RECENT REVIEWS WHO STAYED WITH US
Being a Yogi, we must be sincere. Actually, we do not appreciate comments and complaints and definitely do not urge people to write reviews because those who SEE cannot write in words and those who do not see also cannot write. The experience of Tantra- happenings and discovering the inner light cannot be expressed in words. However, the below given words are the reviews as it is.
While surfing in the Indonesian island, one of my friends told me about awesome views of Annapurna Himalaya seen from Tushita Nepal. Then, I could not wait for that moment so, I flew to for Pokhara Nepal. Once I arrived here, I was bewildered with the utmost tranquility, spiritual vibration and the magnificent mountain views seen just in-front. The whole Pokhara city was under the cloud for 4 days but I could enjoy dramatic mountain views and sunrise above the clouds. I practiced yoga and meditation and know the principle and truths of yoga. Moreover, naked sky full of stars and milky- way was so much stunning. I captured such rare glimpses of nature. Definitely, I had life time experience. The utmost cordiality and homely atmosphere of Shrestha's family made me to think and write few words of humanity and brotherhood that the modern world has forgotten.
joepmencke@gmail.com @Netherland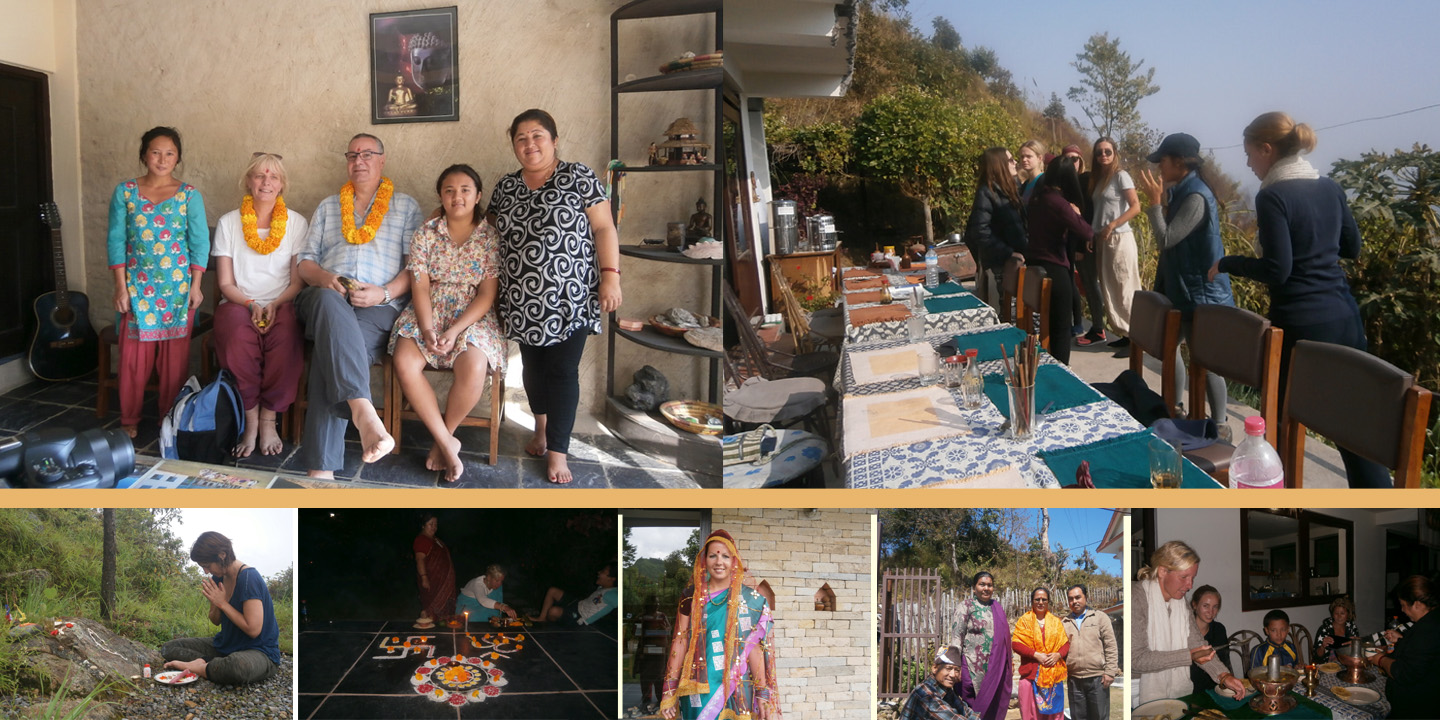 I was searching for some destination to release and refresh from busy life. Somehow, I found Tushita-Nepal along with organic farming concept that lured me to go there. I immediately write an email to the concern person and received answer with so much warmth / closeness. I decided to go and stay at Tushita for a week. In fact, as seen in the picture, the location was superb- difficult to express in words. It is my pleasure to be amidst the mother nature with 360 degree views. I am totally refreshed after staying at Tushita. Moreover, Shrestha recommended me to see one of the astrologers (Sundar Paju) and found the lost way. I really appreciate for his great help. I really recommend for people to visit Tushita who are tired from their life and lost the way further to go.
Maria Medina, Suuny75@hotmail.com @England, United Kingdom
I know Shrestha's family when I stayed at their establishment- Pension Tushita at lakeside. Unfortunately, they were in trouble with the house-owner for contract. Since then, we had no connection. But, Luckily again I met them at their lovely new retreat center. Being a nature therapist, I can feel the spiritual vibration. The surrounding of Tushtia-Nepal is full of positive vibration. I found it as one of the best place for any people to find inner peace. The beautiful Annapurna Himalaya with the Virgin Mt. Fishtail is magical. The agricultural terraces of mustard field, herb garden and the view of World Peace Stupa seen just in-front was something like poetic expressions. As in the website written, the place is far from the madding crowd and meant for those who are in pursuit of peace and happiness. I am planning to bring yoga lovers small groups from Germany and Netherland every year.
Annelippers@live.nl @Netherland
I simply cannot express in words - the spiritual vibration that I received here in Tushita-Nepal. Indeed, it is an amazing place to receive cosmic energy and know the self. The magnetic energy flowing from Virgin Mt Fistail is remarkable !
Spiritualwhaleretreat@gmail.com @Webspiritual whale retreats
We had no idea of yoga-mediation. Just we wanted to know a bit and enjoy our vacation. As a teenager, I did not felt that much good of yoga but I was so much bewildered with the mountain view seen from Tushita. And the food amazing! I used to think of Ayurvedic food prepared by Gyanu while meditation too. Oh ! my God. The homely atmosphere made us feeling like our own home.
JILL & MARSA
Jillvdwalle@gmail.com & maartjevissers@live.nl
Review by Sanja Zekovic 9 out of 10 "Namaste! Staying in Tushita Nepal was indeed unique experience. Sitting in peace on top of the hill, guided preparation and meditation were my aim so I am quite happy, as beginner, to get it from my host, Yogi Panchavedi. Every day was filled new learning, sanskrit, and history of Nepal. Fine family atmosphere and lovely neighbourhood is what to expect there. Available tracking, walking around the hills, swimming in the lake, and Ayurvedic meals. All fruits and vegetables are home grown and organic. My brain and body were refreshed after only eight days spent in Tushita."
BookYogaRetreats.com website, edited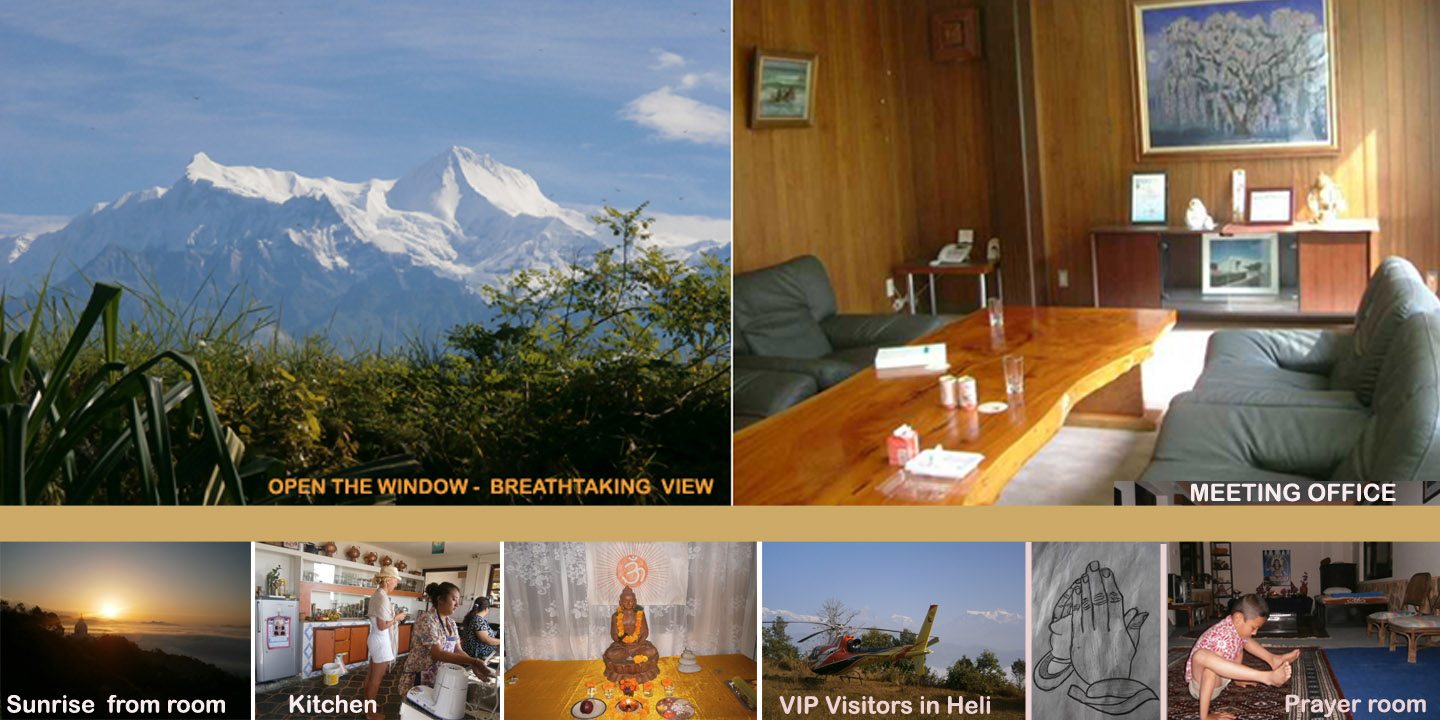 I am Kikuchi Japanese from Japan. I came to visit World Peace Stupa- saw Tushita-Nepal sighboard and few words of Japanese language. My English not good so want to talk in Japanese. I met Rajesh and his Japanese very good. Surprise ! (bikkurisimasta ) He told me about yoga and meditation. I stayed at Tushtia for 3 days just like my home. Mountain view was so so beautiful. I took more than 1000 pictures of nature and birds. I will show to my friends. They will become very happy to see Nepal Himalaya. System to wash dish - self service is very good here ! I think, it is a part of disciplined life we must live. My wife had came to Pokhara in 2013 so she sent me to visit such beautiful place. I thank my wife Megumi for introducing real Tushita-Nepal.
Kikuchi, Mugennosonzai@i.softbank.jp @Gumma Ken, Japan
Review by Traveler from Edinburgh, United Kingdom
10 out of 10
"Definitely worth the 90 minute hike to the top. Great views of Annapurna range and a nice cafe at the top for chai. It was a great experience!"
Trip Advisor website, edited