Aryans (meaning well cultured people) were migrated from the Himalayas of Nepal. According to our "Greater Nepal Map"- (just 80 yrs ago) the border had extended till Kashmir, Tajmahal, Calcutta, eastern Sikkim almost half of India. Moreover, our great emperor Bharat had ruled the whole Indian continent and still his Kingdom Bharatpur lies in Narayanghat district of Nepal. In fact, ancient name of India "Bharat" (India was the name given by British) inherits from the name of great Bharat. You need to turn the pages of Vedas and know the origin of Tantra-Yoga- Meditation. All the spiritual path seekers of the world including Jesus Christ and Yogis of India used to come to Nepal- receive immense spiritual vibration in Daman, Tripur, Annapurna and Rishekesh. Remember, Rishikesh is the birthplace of Lord Rishikesh in the river bank of Kaligandaki river - Ruru Kshetra of Palpa-Nepal. In those days, Yogis of India had come there- meditated- felt vibrant spiritual vibration. They could not take the place but adopt the name "Rishikesh" in present India. It is pity that the whole world is known about the original Rishikesh of Nepal. It is 160 km away from Tushita-Nepal. Yogi Patanjali - the father of modern Yoga, was born in Bhojpur District of Nepal. He wrote Patanjali Yoga Sutra which is the source of all the Yoga philosophy and meditation practice of today. May you come and discover the facts.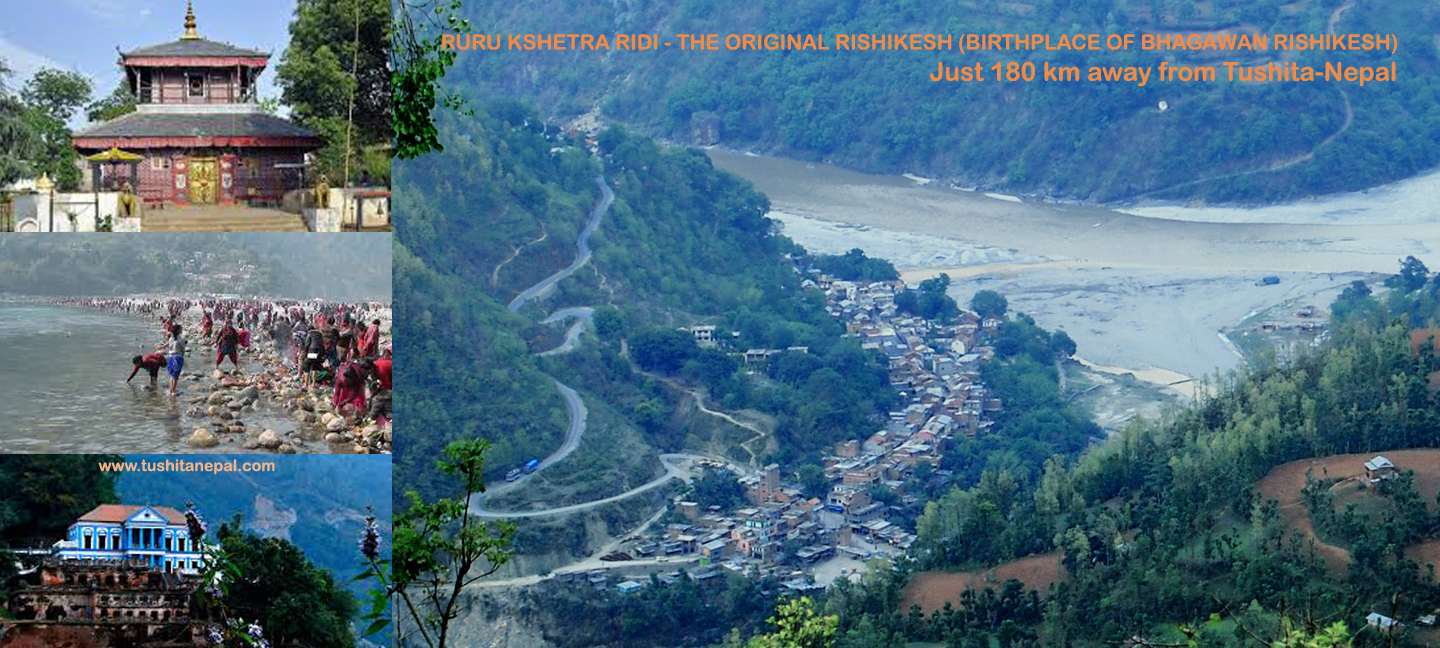 WHO IS YOGI PATANJALI ?
Nepal is the land of devas, saints and sages who gave immense contribution to the whole human civilization. What we are now is because of them. The Greater Nepal had spread from Mt. Kailash- Kashmir- Uttarkhand- Panjab- Agra- Calcutta till eastern Sikkim- almost half of today's India. We had to compromise with the British while their rule in India- giving the name India. Before that India was called Hindustan- the land of Hindus. Again before that- the whole continent was called Bharatkhanda ruled by the great king Bharat having the capital at Bharatpur Nepal. Still the place exists with the name Bharatpur (capital city of King Bharat). Therefore, no doubt- India has deep rooted relationship with Nepal from the very beginning- culturally, socially, politically and spiritually. But, we must not forget that almost all the saint and sages were born in the pious land of Nepal. The below information is based on Vedas texts.
Veda Vyasa the compiler of the 4 Vedas and 18 Puranas (the father of all the literature and scientific discoveries) in Damauli (on the confluence of Seti and Madi), Kasyap (Pioneer in Astrology) Kaski district, Basistha Rishi- Pioneer in Vastu Shastra (fengsui)- at Biratnagar, Dhanwantari (Pioneer of Ayurveda) Dhankuta, Charak & Chyanpras (pioneer of modern Ayurveda) Panchase hill, Karnad (mathematician) – Karnali zone, Marichi- Mirchaiya- Lahan, Pulastya- Palpa, Lausik Rishi- Koshi, Bhardwaj – (great engineer who invented aeroplane before 5,000 BC) in a place called Bhardaha , Kapil Rishi – Kapilvastu, Manu- Manaslu, Rishikesh Rurukshetra, Karnad- Karnali, Dadhichi Rishi- Dailekh, JanakRishi- Janakpur, Buddha- Lumbini, Yogi Patanjali Patleban- Bhojpur and many more…
The Patanjali Yoga Sutra is the most translated ancient Indian texts in the medieval era even to old Javanese and Arabic languages. It is the foundation of entire yoga-meditation & spiritual practitioners. But it is same that they are unknown about his birth place. May the researchers come and explore the fact. However, tantric believe that Yogi Patanjali (the father of modern Yoga) was born around 500 BC in Patlekharka Bhojpur distric of Nepal. We must thank Swami Vivekananda who spread the noble message of Yoga – Meditation to the Indians and westerners. But, the base was all from Patanjali Yoga Sutra. The Myth narrates: Yogi Patanjali fell from heaven in the form of little snake into the upturned Palms (a gesture known as Anjali) of his virgin mother name Gonika- herself a powerful Yogi. Indeed, He is regarded as an incarnation of the serpent King Ananta. Long long ago, all the Rishimunis approached Lord Vishnu to tell that even though HE (incarnated as Lord Dhanwantari- Pioneer of Ayurveda) gave the knowledge of Ayurveda to cure illness, people were still ill. But, illness is not only related to human bodies but mind and soul. So, how to cure mental/ emotional illness dealing with greed-lust-ego, anger? How to get rid of from all these impurities? Hearing the appeal of Rishimunis Lord Vishnu has Patanjali down to earth in order to teach a healthy way of living- mentally and soulfully too. Many have assumed mythic dimension regarding the birth of Yogi Patanjali. This is because- anonymity is typical of the great saints and sages. They come down to earth to perform Dharma (duties and responsibility) in order to re-track human civilization only not to receive credit for themselves.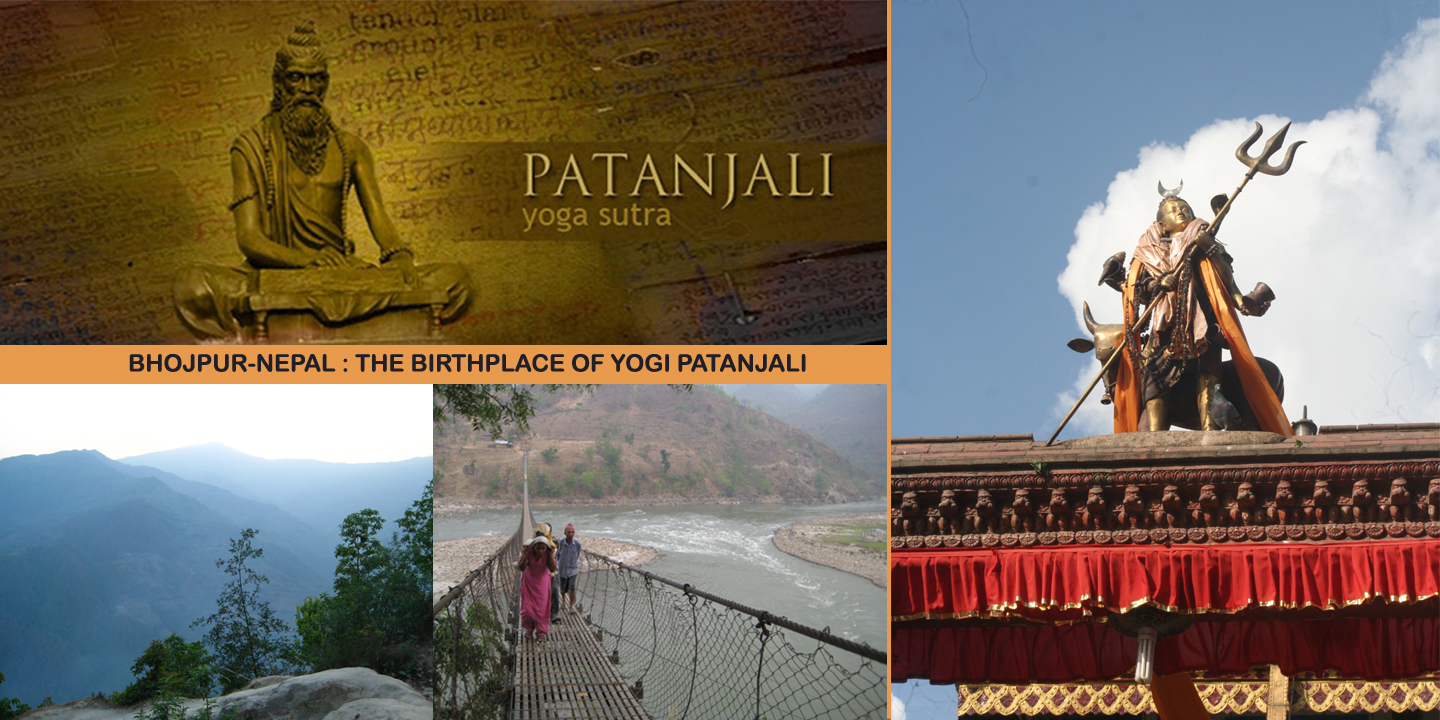 Yoga Sutra is a road map of human consciousness- through yoga-meditation and spiritual practices. It expresses the truths of the human condition with great intellect; Why do we suffer? Who are we? What is the purpose of life? How to connect with the Almighty Creator? etc.
BHAGAWAN RISHIKESH
In the beginning of this Kalpa, Bhagawan Rishikesh (incarnation of Lord Vishnu) was born in Ruru Kshetra- Palpa district of Nepal. It lies in the confluence of Ridi khola and Kaligandaki River. He had to appear while Ruru (a baby grown up by sucking deer's milk) meditated for 100 years and pleaded Vishnu to be seated there. The mythology goes like this; once upon a time Devdutta Brahmin was in deep meditation and Lord Indra sent angel Prumlochha to distract his meditation. Devdutta was also very much fascinated to see beautiful lady just in-front and fell in love. She gave birth to a child and went back to heaven. As the baby had no mothers to feed milk- there used to come few deer to feed milk. This is how the baby was grown up. Ruru means deer in Sanskrit language. So, the girl was called Ruru as she was grown up by the help of deer's milk.
Ruru Kshetra is considered as one of the holiest place in Vedic Sanatan Dharma- later Hindus of India used to come and receive blessing from Bhagawan Rishikesh (controller of all the senses). The Devotees, Yogis of India could not take the place but took the name to Uttarakhanda for Spiritual Practice. Therefore, may the researchers come and explore the fact of Original Rishikesh. It is good to celebrate international yoga festival in Rishikesh – Uttarakhanda. But, it will be unfair not to utter even a single word of original Rishekesh (Ruru-Ridi of Nepal). We urge all the yoga lovers to celebrate international yoga festival 2017- 2018 – 2019- 2020 and onwards in Ruru Kshetra of Nepal and receive blessings.